Exposed: Shawn Mendes and Camila Cabello's Relationship TIMELINE and the TRUTH behind it all.
It's time to expose what you all have been waiting for - the real story behind Shawn Mendes and Camila Cabello's relationship. Is it PR? Are they dating for real? What is going on? As always, the ExposingSMG team has the inside scoop.
Let's start by visiting Shawn and Camila's relationship timeline, then we're going to discuss what we revealed in the 2019 July Tell All, which will lead us to the inside scoop between the two. By the time you're done with this post, you'll have a degree in Shawmila.
PART ONE: THE TIMELINE
August 2015
Shawn and Camila officially hung out publicly at the 2015 Video Music Awards (VMAs) while Camila was still part of Fifth Harmony and they attended the after party together - fueling up dating rumors.
I say officially hung out publicly because they met each other in 2014 due to connections with Austin Mahone. Nonetheless, it's irrelevant.
September 2015
They posed together at the iHeartRadio Music Festival, feuling more dating rumors or at least just getting people talking about the two. Shawn and Camila being friends was controversial because it hinted at Camila branching out while still being part of Fifth Harmony - a fact that is later confirmed true.
November 2015
Shawn and Camila release a joint single called "I Know What You Did Last Summer. "
They promote the song and perform it throughout the duration of 2015 and 2016.
They literally perform it like three thousand times.
Mind you, Camila is still in Fifth Harmony at this point and you probably remember when we discussed this song's promo back when we exposed Fifth Harmony big time.
Read Fifth Harmony Exposed part 1 here.
Of course while all this is happening, it's fueling dating rumors and causing a lot of drama within the Fifth Harmony fandom.
June 2016
They win the iHeartRadio Much Music award for the song and they accept it together.
Camila then starts her debut era as a solo artist after abruptly leaving 5H (like we said she would). Her and Shawn don't really work together again since that. They are still friends so they'll show each other support and pose together or pose with the spawn of Sata- I mean, with Taylor Swift, their top promoter.
Shawn and Hailey
December 2017
Shawn sparks up rumors that he's dating Hailey Bieber (at the time, Baldwin).
Credit: Goff Photos
We're going to get to Hailey and Shawn at a different time, but we don't wanna get too off topic.
April 2018
Shawn posts the following on his Instagram.
They basically hangout and they attend the 2018 Met Gala together which confirms to everyone they are "dating." Or so that's what everyone thinks.
Kind of a concept if you ask me.
December 2018
Camila posts the following on Twitter - hinting a musical collab between the two.
So basically, here they are working on Senorita, SIX MONTHS EARLIER before the release.
6 months earlier.
DId you get that?
6 months earlier. Important fact for later.
Camila and Matthew Hussey
During this Shawiley time, Camila is in a serious relationship with dating coach and expert, Matthew Hussey. This is first confirmed by their beach trip to Mexico.
February 2018
PHOTO: HEM/BACKGRID
So Matthew and Camila stay dating. They are spotted kissing, hanging out, and yadda yadda.
February 2019
Camila and Matthew are last spotted together mid-May.
They spent a whole VACATION in ITALY and arrived back to LA smiling on May 12.
Matthew had met Camila's family and had hung out with her mom publicly. This is what she recently had to say about Matthew:
So everything is good for Camila and Matthew… or so we're being brainwashed into believing otherwise.
As for Shawn and Hailey, nothing happens between them after May 2018. Hailey later gets engaged to Justin Bieber and then quickly married. Shawn hints that he was broken by it in his Rolling Stone cover story in November 2018. However, we will not discuss Shawn & Hailey here because they will get their own post (yes we finally got the inside tea on them).
So this is where everything starts to get interesting.
June 20, 2019
Shawn and Camila release their single "Señorita" which they were working on since December. So this was NOT spontaneous. This collab has been in the works for MONTHS. Its release has been in the work for months and basically everything regarding this song has been extremely calculated. Understand that, okay?
This song marks their first collaboration since "I Knew What You Did Last Summer" in 2015.
They also release the music video for it the same day as the single release.
Now the music video is what caused a lot of controversy because Shawn and Camila were practically… fucking. And everyone was like.. um.. okay this is a little weird since.. uh.. Camila aren't you in a relationship with Matthew going on 2 years?
I personally didn't watch the video nor did I listen to the song, but I gathered what I could from the following gifs. It's basically a sultry and sexy song.
So as you can see above, that is the thumbnail for the video. Already attention grabbing because Shawn is a pretty popular singer and Camila is somewhat there as well. And take a look for yourself at the content of the video.
June 21, 2019
Shawmila is in a V magazine cover spread where they promote and talk about the song. The photo shoot consists of very "sexy" and close photos that basically grabs everyone's attention, if it wasn't already grabbed by the music video.
Once again, magazine covers are talked about months in advance. Everything is highly calculated if you're not getting that from all this already.
June 26, 2019
News are reported that Camila and Matthew have broken up.
June 27, 2019
Camila tells her fans to stop adding "more pain to pain."
Shawmila, take one and ACTION!
Shawn and Camila are seen all mysteriously together at night. The way these photos are stag- I mean taken, is the exact way it would be taken if they were filming a couple getting away together at night in forbidden teen love movie. But we'll get to that later on.
It's funny because as soon as they release their song, they're out canoodling, Camila is broken up with her man, and ironically everything is falling into place EXACTLY the time the song comes out.
July 4, 2019
Shawn and Camila spend their Independence day together and we get the following video of them being all close.
A random source also tells E! News the following:
July 5, 2019
Camila is at Shawn's concert and she posts the following on her Instagram story.
So as you can see, Shawmila is already starting the action. And it gets better.
July 6
Shawn denies that he is dating Camila.
Cue the fans saying "phew" or those just saying "um what?"
But wait!
July 7
Shawmila's San Francisco love saga commences!
My favorite part of this day is Camila "running" from the paparazzi. (X)
She's so bothered by the paparazzi and she's trying to escape into a store, but the store is open but she's acting like it was closed and she's signaling to Shawn who's 4 inches away from her. It's just so funny. We discuss this later.
July 12
Shawmila's first public kiss takes place!
All I have to say about this is that the ExposingSMG team is always right. Take a look at what I said literally 3 days before.
Get on the winning team.
There was like 800 photos of this day in different places and what seems to be different outfits so make what you want with this information.
But wait (again) .. there's more!
July 13
Also in San Francisco, they are seen kissing and TMZ gladly reports the news.
Shawn is literally sitting there not moving, arms by his side and all, and Camila is kissing him. He dead ass looks like a wax figure.
July 17
Shawmila continues the love saga, but this time they are in LA in which we get these "fan taken" photos.
Shawn had TWO days off from tour, but he flew into LA to continue his second day job. I just…
July 18
We get what seemingly looks like "fan taken" photos again, in LA.
You get the point. This is basically their entire timeline.
Shawn Mendes is currently on his self-titled tour so all of these spottings are taking place during that.
July 26
It literally looks like they're throwing up in each other's mouths. Who kisses like that in a public restaurant?
Anyways, this is basically it for their timeline minus the amazing next portion. They have other spottings such as Camila being annoying at his show, them in a bookstore, but you get the point.
July 29
The most iconic to date is the PDA filled beach pictures of Shawmila. See for yourself.
Photos: MEGA
I had to laugh.
This moves us into the next part of this post and what everyone has been waiting for.
PART TWO: THE INSIDE TEA
In our July 2019 Tell All, we exposed the following which we later revealed.
As you can see from the timeline, Shawn and Camila released Senorita on June 20 and then breakup news between Matthew and Camila were given to us six days later. Let's get into the first topic of this which everyone knows by now.
The PR
If this is your first post to take you PR virginity, let me quickly explain what it is.
PR stands for public relationship. A PR can be spun in any type of relationship including friendship. That is the kind of PR that Shawn and Camila were under the first couple years of their friendship which was jumping back to 2015.
We explained Camila as a person in the first part of Fifth Harmony exposed which you can read right here.
Some background information…
We exposed that Camila continued on with Fifth Harmony after they were put together on X-Factor with the plan to leave them all along FROM THE START, when it was the most convenient for her. During her time in Fifth Harmony, she had a solo team that told her what to do and what to post in order to be the most popular member. She was conniving and planned behind Fifth Harmony's back all along. This hurt the band and divided the fans.
Fifth Harmony exposed:
From the start, Camila was always racist towards Normani and felt she was above her. She is on record calling her the N world and has said it multiple times during her stan eras. I'm a believer in forgiving mistakes when they're done at a young and naive age, but just stating that for background info. She always felt that she was better and that's why she "deserved" the most solos and the most extravagant acts during the band's active years. Here's when Shawn comes in it.
During her time in Fifth Harmony, Camila tried her best to make connections and this started with Taylor Swift who got her so many connections and gave her so many numbers - popular producers, managers, etc.
Camila and Shawn's "Friendship" PR (2015-2018)
The duet with Shawn, I Knew What You Did Last Summer, was marketed as something spontaneous that happened when they were both being quirky and hanging out backstage at Taylor's show. EH FALSE.
Camila had met with producers prior to all of this and was in constant contact with Shawn's team in order for this duet to happen. As I told you in the 5H post, Camila was only riding off of Shawn's fame with Stitches. He was just an accessory in her road to her solo career.
Mind you, this is all happening during her time in 5H. She did those girls so damn dirty, but we will not get into that because that's already discussed in the three exposing posts we did on Fifth Harmony. Funny how after we exposed them, they broke up and everything we said - down to the detail, got proved right.
Anyways, Camila and Shawn were in an informal PR. This means that during their years of their friendship PR, there wasn't really a contract like there is today. Of course they had contracts regarding the song, the performances, and all that business shit, but this one was different. They were not obligated to do anything.
Their teams knew that there would be rumors behind them dating and that's what they wanted. In the meetings, they would always circle around a possible PR actual-relationship between Camila and Shawn, but they wanted to exercise all their options.
Take a look at what I say in the 2016 5H Exposed.
Not only did Taylor help with her connections, but she did bring her on tour with her as we said. And now Camila is in a PR with Shawn (like we said). And Fifth Harmony broke up (like we said). And she got a #1 single and album due to the tactics of her solo team which HURT the careers of Lauren, Normani, Ally, and Dinah-Jane.
The point of all of this is Shawn and Camila's friendship PR was something that Camila used to boost her as a solo artist. In dumber terms, she was using Shawn. I don't think it's with malicious intention - like I said, she does care for him as friends, but she is a smart girl. Sure they are friends and they get along, but if Shawn does not offer some sort of benefit towards her, she doesn't really care.
I Know What You Did Last Summer peaked at #20 on Billboard despite the 8,000 performances they had. After it did its run, Camila did not look back at Shawn. She moved on, pulled the same tactics with her solo team while still in 5H, and released Bad Things with MGK. Camila went on to release more features, Love Incredible & Hey Ma.
I assure you that if IKWYDLS peaked higher, Camila would have signed the PR contract. Also, at the time, her team didn't want to trap her into anything without exercising all her options. So they kept her collabing with other artists until she released her debut album. If the era was flopping, Shawn would be called in like a little rag doll. Since it did pretty well, she did what she did and was contracted to open up for the calculated devil herself, Taylor Swift.
Crying in the Club and Know No Better both flopped, so they were getting a little scared, but then Havana came and it was a huge success. Since Havana was a success, Camila relaxed and realized she didn't need to use any of her so-called friends, which led into her real relationship with Matthew Hussey in 2018.
Shawn and his team were doing other things. He was seen with Hailey Baldwin (they will get their own post) and his career was also very successful.
So why a PR now? Why turn from that friendship PR into an actual real PR where tongues are shoved down each other's throats?
Two things.
Shawn and his team absolutely hate, despise, and are annoyed by the "gay rumors."

Camila wants to rack up relevance and hype for her second era which she is scared flops and doesn't live up to the first era.
Camila and Shawn's PRelationship
What better than to hype up careers and distract people than release a steamy single between two young and hot stars?
Shawn is already an established artist. He has racked up 3 #1 albums, both in the US and his home country, and several successful singles.
Camila is on her sophomore album, which stasticially is known to flop for most artists. Usually if your debut is a success, you are not promised that same success with the second album. This is what Camila is fearing: flopping and irrelevancy.
Like I said, the PR between Shawmila was ALWAYS discussed at meetings. They finally found their time for it.
Camila wants to use Shawn for relevancy and Shawn wants the gay rumors to disappear. Together, they promote their new single and get a hit out of it.
If you really think they're in love, you're an idiot.
The Obvious Proof That They're a PR
Take a look at their San Francisco outing from July 12.
Camila and Shawn are both wearing jackets. Shawn has one over his hoodie and Camila has a leather jacket on. They're taking their cutsey and coupley stroll.
But wait!
Camila gets cold and Shawn gives her his jacket.
Cue the audience saying AWWWW.
But wait. Where did Camila's leather jacket go? What happened to her jacket during their cute stroll?
Right.
He was instructed to give her his jacket because #cutegoals, right? And she gave her jacket to whomever is directing their little scene. Shawn is going to be okay because he is already wearing a damn hoodie because he knew of his lines and scene beforehand.
Also, no one wears 7 inch heels on a stroll. If any of you are old enough to date, you don't wear heels that high on a date that requires a lot of walking. I mean Shawn and Camila are walking on the bridge, that's a long fucking walk. Oh wait, Camila knows how long her scene will last so of course she has her comfy shoes right next to where she threw her leather jacket before moving onto the Shawn-gives-her-his-jacket scene.
"You get that sir?!"
You can't be looking directly at the camera and not expect people to be suspicious.
They both look so damn awkward, I feel the awkwardness for them. And it's not like they were waiting for the light to change or anything. No they are literally standing there, POSING, waiting to be photographed.
And when the photographer that they've been seeing the whole outing, comes up to them, Camila is so "OH NO!" and "shocked" so this bitch starts running away and trying to access a store because she's so frustrated.
She's motioning to Shawn who's nervously pointing at a store which is OPEN, yet they don't go in. You can literally see the door open as Camila pushes it. But you gotta continue the scene. No time for shopping! You gotta act!
This is by far the worst acting I'd ever seen. I've seen better acting from Camila when she was on X-Factor USA.
Shawn is literally looking STRAIGHT at the camera, head twisted and all, before grabbing Camila's hand. I mean usually if you're in the middle of the night and it's dark, you ain't looking around in the horizon before grabbing your lover's hand, am I right?
Camila and Shawn have been papped together more times in one damn month than Camila did in her 18 month relationship with Matthew. She cried in interviews about how she wants her private life PRIVATE and hence why we got like 7 pictures of their entire relationship.
Here is a fan taken video of them on July 7, aka the day they did like 14 photo ops for this relationship of theirs.
Is Shawn not tired? What reason does Shawn have to be out in a diner at 5am while he is on tour?
Of course he has other contractual obligations throughout the day such as touring and press so they gotta utilize the whole day somehow, huh.
Moving onto my FAVORITE pictures! The beach photos which are the most recent.
Photos: MEDIA
Let me tell you something - IT'S NOT A PR IF YOU DON'T DO THE FAMOUS BEACH FILLED PDA!
Jelena made this one popular back in 2011 when a grown Selena Gomez groped the minor Justin Bieber.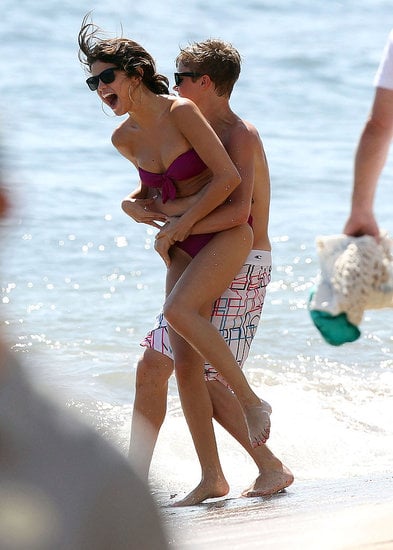 Teams just love a PDA packed beach pictures. If the audience is doubting your relationship, they sure will think twice after this outing. Or what a great way to seem romantic and relatable to the 13 year olds watching this go down.
What did Taylor Swift do when Kim Kardashian and Kanye West exposed her for the lying snake she is? She was out seen making out with a Tom Hiddleston, a well loved actor.
Photos: TheImageDirect.com
How about when we needed some sprucing up for Harry Styles and Kendall Jenner's boring love lives?
Order them one plate of hot making out on a yacht.
Photos: SplashNews
Jelena also had their OG yacht pictures. Nothing like a fresh outing that looks like a Teen Vogue photoshoot between an adult and minor.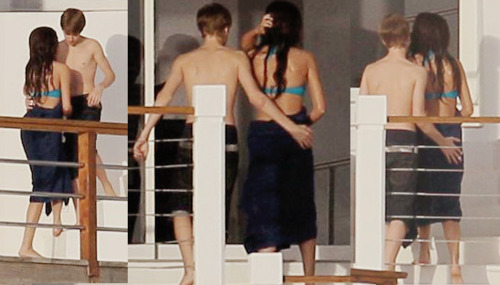 I mean at least Camila had the decency to be of age, but that's just my two cents!
Can't wait for Shawmila's PDA filled yacht pictures next.
But back to Shawmila's beach pictures.
They literally have a PHOTOGRAPHER. JUST ONE. It ain't even paparazzi! They have one hired photographer taking all the pictures. If it was paparazzi, there would be SEVERAL all coming from different agencies. And Camila acting like she don't see him in the second picture like the fuck? Where was this energy?
The photographer is two inches away from her yet neither her nor Shawn is flinching.
The cherry on top of all of this is the photos published from Shawmila's beach day, is all from the photo agency MEDIA. You can see the photo credit under all the pictures I included right under the photo.
Let me explain.
If there was a bunch of paparazzi on the scene taking pictures of these two celebrities who desperately want to be relevant, the photos would have been published from many different photo agencies since the paparazzi crowds you all see, don't come from one photo agency nor do they sell their work to only one. However, all of Shawmila's beach/pool pictures are published by the photo agency, MEDIA which continues to prove that their one photographer sold the photos there. He cashing in his check from Media and from Shawmila's team who hired him in the first place. Also, funny how ALL of their photos were not published by MEDIA, but this specific outing is which is the only outing (so far) with a private photographer.
If you' don't understand this concept of photo agencies and selling celebrity photos, then you're probably too young or too uneducated on the industry. I don't say this with malicious intention, I'm just merely stating a fact. Just know your place going forward.
Let me not even get started on the amount of times the paparazzi was called and tipped to where they are or where they will be. On top of that, all these "fan taken" pictures are always in very busy areas. For people who are on record for crying about how much they love their privacy, it is intresting to see them tongue wrestling in places packed with people where you are surely to get photographed. So yes, they go to places where they KNOW they WILL get photographed. The P in PR might as well stand for pictures because that's all a PR gives us - pictures.
Where was this energy with Camila and Matthew?
The fuck is she doing licking his chest in a public area? This isn't a sex tape!
Why did news get confirmed about Camila and Matthew's breakup AFTER the release of Senorita?
Everything in Hollywood is calculated to the detail.
I mean come on.. the song was worked on for more than six months before. The video was shot before it's release.. obviously. AND they had a whole magazine spread covering them. She was in Italy with her man, a month before its release. So how did she know she would be single just in time for the song's release? Everything is planned.
Releasing the music video and song BEFORE reporting that Camila is single, causes people to talk. What's going on? Is Shawn the reason? What is happening?
Then the news break out and Camila goes on a whole sob story of her relationship which no one asked for, talking about "not adding pain to pain" to make herself seem sympathetic and hurt in which she finds comfort in Shawn. Now they're milking this whole "they've always had feelings for each other" saga by having a team source speak to US weekly.
Shawmila's team is now trying to rewrite history.
The only time Camila and Shawn riled up rumors of them together or dating is when they are WORKING and PROMOTING SOMETHING together. They were asked these questions when they were promoting that horrible song of theirs, I Know What You Did Last Summer. And like I just explained, their teams didn't put them in a PR right away because they were testing Camila's strengths in the industry and had Shawn reserved as a little mole rat to use, when needed.
They really trying to act like Camila wasn't in a whole ass relationship in which she spoke about Mathew saying that she finally experienced love and how she wrote about him for her second album. Now when the second album comes out, they're going to promote it as if the songs were written about Shawn. Bookmark me!
Shawn on the other hand was seemingly crying over Hailey getting married to Justin Bieber.
So no. They never had feelings for each other which was strengthened by hanging out more. And isn't it weird to anyone how Camila is following Shawn like a lost puppy on tour? Like go take a nap or something.
Why is Shawn not answering questions about whether or not him and Camila are dating?
I'm sure you've all seen Shawn's dramatic ass walk out during a Q&A with fans after being asked about Shawmila or when he just flat out denies the relationship.
When you're in a PR, the more mystery and suspicion, the more people will talk, the more the PR is interesting. Since Camila doesn't have an active era right now like Shawn who's form of employment isn't just a PR, but who's also touring, she is not being asked anything.
Shawn is being told to deny deny DENY!
When Selena and Justin were in their PR in 2011, she denied all the dating rumors UNTIL the DAY she dropped her album, When The Sun Goes Down.
A couple years back I did a whole video that is long enough to be an episode on NBC, about Selena Gomez's image and her PR with Justin Bieber. In it, I covered a lot of shows that talk about PRs, publicity stunts, and more. There was one scene in 90210 (a show many of my veteran readers started watching due to that video), in which the manager of this rising star, Adrianna, got her the chance to walk the red carpet with Joe Jonas. In it Joe tells her before walking the red carpet that, "if they ask us about our relationship, we keep it vague." Fast forward to them walking the red carpet together and all the reporters are asking them about their relationship, and her manager is mouthing to her what to say.

You can watch the video right here.
So Shawn denying all the questions or seeming "shy" about it will give the impression that the relationship is serious and will keep people interested.
It's all about calculation.
The industry is all about psychology and how they can control what the general public thinks. Of course there are still people out there who don't know that PRs can literally extend to whole ass marriages. Fans see Shawn and Camila tongue wrestling in the water and automatically think, wow this looks so real! Nothing is real. Welcome to Hollywood.
So moving from this portion of the PR which reeks, let's get into what many people are interested in. Why the PR? Is Shawn gay? What about Camila?
The Reasons
So in the past we have been known to be ruthless with information. We were outing people left and right. We were dragging up and down, we just don't quit.
However, as we have gotten older with running this blog, we've gained somewhat of a conscious and a small percentage of morals. Obviously not too much because when you're dealing with ruthless celebrities, you can't really be that nice.
Shawn
Many people have been suspecting that Shawn is gay. Here's what Shawn had to say about his sexaulity:
I'm about to declare ExposingSMG as Shawn's protectors. Me acting like I didn't just shit on Shawn this whole post.
Shawn hates everyone insuiating about his sexaulity. He is so damn desperate for yall to leave his sexuality alone that he signed onto a PR contract with Camila - someone who's so damn annoying to be with and is willing to do anything to become a bigger star.
Mind you, Shawn already is a big star and is somehow relevant despite him being extremely boring, in my opinion. But he wants everyone to stop questioning him.
With that being said, we will not reveal anything regarding that topic. Here's a message from my source though.
The point of all of this is Shawn's team is trying to brand him into something that he is not. They want him to be this brooding womanizer and it's simple, he's just not. So it sucks to see him cave in and literally sign into something that he is going to have to be committed to, when the only thing Shawn wants made public, is his music.
Back in my ruthless days, we already exposed Camila as bisexual because she was in some weird fling with her ex-bandmate, Lauren. You can read about that here. And fast forward a couple of months, and Lauren came out as bisexual as we already told you.
Like I said, I'm doing this new thing where we DON'T out anyone, but that information about Camila was already revealed in 2016 before we took our new code of morality lmao
Camila won't come out as bisexual, yet. She thinks about what's good for her career. What's gives her a wholesome image. And therefore we have her in a PR with Shawn.
As for Camila, she's not to be trusted. She comes off as this genuine sweetheart, but she just knows how to play the game. Camila wants to be this huge star and she is willing to do anything to get it. She was not checking for Shawn when she was basking in Havana's success and having her little relationship with Matthew. On top of that, I've been told that Camila and Matthew did not end things on good terms and it's suspected that she ended the relationship with him because she wanted to sign onto the PR with Shawn. Tells you a lot about her as a person.
So once again, she can't be trusted. Look at how she treated the Fifth Harmony girls. I wouldn't be surprised if this Shawmila relationship ends their actual friendship. To touch base on them for a little, they are good friends who get along very well. However, they don't really keep in touch unless it's for public appearances. I'm not saying they don't care about each other genieuly. THEY DO. But it's nothing exaggerated like what you may think.
In short:
This whole relationship is a scam to prep drama for Camila's new album, to stop the gay rumors circulating around Shawn, and to cause controversy to promote their song Senorita.
Here's some more messages between my source and I.
Let's answer some questions.
Camila and Shawn are friends. This is why it's not horrendous for them to be hanging out because they are contractually obligated to. He wanted the PR because he wants the gay rumors to stop. Shawn is more awkward towards Camila only because Camila knows how to act and work the camera. Like I said, she's a very skevious girl who wants to really sell the act.
There's a literal signed contract so it's not like oh there may be a possibility that they have real feelings for each other. No. Also, based on the nature of the info we know that we are not releasing, no they don't have real feelings for each other.
Shawn has always been one to kind of follow the rules. As for sleeping with fans, it's a little unheard of. Maybe it happened here and then, but honestly I doubt it. Things like that are usually known within the circle and will find their way back to us which we will obviously expose. In terms of his PR contract, what many people don't know is that PRs require you to continue the act with friends and family. For example, back when Justin & Selena first started off on their PR, their friends and family did not know which led to Justin's friends fighting with him and telling him that Selena is using him, yadda yadda. So it's not a well known fact, but it happens often. What I'm trying to say is that Shawn will be obligated to NOT be seen with anyone else, same with Camila, because then that invalidates the PR and if they were caught, it would cause a huge problem with management. This is also why I said in my 1D exposed that Zayn was not in a PR with Perrie because he was seen obviously cheating on her and if it was a PR, management would want to stop that because then that invalidates their contract and therefore invalidates the whole point. A PR is VERY complex, it's not black and white and that's why many fans don't seem to understand anything about it. We are working on our PR 101 post though.
As for Shawn and Camila falling in love mid contract like the literal idiots, Justin & Selena, I highly doubt it based on the information we know. Information we blurred out in the above messages.
As for drugs, I have not heard of Shawn doing drugs. He's truly a clean cut boy and I hope the industry does not ruin that. Camila did have her experimenting phase of drugs which is still on and off. Nothing too crazy, just your usual Hollywood snort here and there. This caused her to not perform at Taylor's shows due to "dehydration" which is code for drugged up. I doubt Shawn has never experimented with drugs though. It's really hard to escape in the industry. But what I'm saying is that it's not something being done right now.
So as stated prior, Shawn's sexuality is an extremely sensitive topic for him and it's not something he is comfortable with. Because we are on a new morality code of whatever, we're not going to talk about this topic. All I'm saying is that there's a certain standard Shawn has to be (which I said in the messages above) and he needs to live up to that.
Camila's ex, Matthew is someone from a different aspect in Hollywood so our sources don't really stretch there. What I am going to say is that Camila and him were not PR. His entire brand of dating and relationship coaching is all geared towards older women mostly so if they were a PR to promote him, they wouldn't have set him up with a young singer with 12 year old fans. It would have been an older singer. I doubt it will be another Jelena because that psychotic mess was a PR I've never seen or heard of before. They had 2 contracts, completely different from each other, and it was just war. But yeah, I doubt Shawmila is another Jelena. The contract has an expiration date and I'm sure so does their tolerance.
So off topic, but since it's in the question I'll answer it. NIck and Priyanka's contract already stated that there will be a marriage involved. Hollywood is the fakest shit ever, so don't trust everything you see.
Camila and Taylor are not friends. They're FRIENDLY. Camila licks ass and Taylor loves those who lick ass. She saw Camila as a good opener act and she kind of took her under her wing. I say they're not friends, because they don't speak and hangout outside from business endveuors. Sure back in 2016 Taylor and Selena hung out with Camila and celebrated her birthday. But that was just the beginning of the ass licking. I already talked about that little trio in 5H exposed part 1 which you can read here. I mean I only linked it 15 times.
Have I ever been wrong? "All we need for Camila is for her to date a huge pop star and make that the relationship of the century" is what I said in 2016. And in that post I also said it was a PR. The exposingsmg team never fails.
Whenever a new celebrity couple debuts in Hollywood, everyone suspects they're PR. Nowadays, stans aren't as dumb as they used to be. They're still dumb, but you know what I mean. So that's why they keep the PR milking hence the beach photos. What their teams tell them is the more they see it, the more people will believe it. Think about it. Rarely anyone remembers that Justin & Selena started off on a PR. People still don't believe that Gigi & Zayn were a PR.
Yes, Shawn has seen people secretly.
Girl I know for a fact that there is a signed contract.
So the rest of the girls of Fifth Harmony were friends with Shawn. They couldn't be anymore because Camila knew that she had to isolate him from them and basically isolate 4H as a whole.
Camila since the start has been shit talking 4H. And when did Shawn and Camila get the most close? When 4H and Camila were not on good terms. So of course she shit talked the hell out of all them and LIED about them to not only Shawn, but everyone else. As for Shawn lying, that's all there is to it. He's lying and doing anything that he can to validate his relationship with Camila.
There is no relationship with her and Lauren now. That shit ended a long time ago. We dissected the hell out of Camren in this post here.
Regarding Shawn's regular contract with his label, he is not contractually obligated to release a new album every year. This is proven by the fact that he did not release an album in 2017. The PR contract with Camila is NOT part of his label contract. Record label deals are usually not involved with PRs. PR is always something that is added on later in the career. They're two separate realms.
So as for sexuality, we already spoke about that.
Camila and Matthew were not a PR and expect a post for Hailey on Shawn because this post is already SO SO long.
As for a date on the PR contract between Camila & Shawn, I don't know the details of the expiration. Usually a contract of this realm will last one year and it will be renewed for the second year if it goes as planned or if they see a need for it to continue. If it starts hurting their careers or just not working out, the contract may be terminated. As of now, it's doing its job.
THE END!
Comment down below any remaining questions or any questions about Shawmila/upcoming posts. Give this post a like if you enjoyed!
xoxo,
your favorite exposers