The truth about Miley Cyrus and Liam Hemsworth's Relationship (2013 and 2019 Breakup Exposed)
Miley Cyrus and Liam Hemsworth were everyone's favorite couple. They were everyone's goals, they are what the general public considered true love, they were endgame as cringy Riverdale writers would say.
But they also broke up.
Why? Many reasons and you have us to expose them to you.
Everything is according to a source unless otherwise stated.
Miley and Liam first met while filming The Last Song in 2009. They have been on and off since then. They first got engaged in 2012 and then broke up in 2013. Since we don't often write about these two, let's delve into the 2013 breakup before getting into their most recent one.
The "2013" Breakup
The main reason behind this breakup was because Miley said that she felt he was not faithful to her and then barely a day after the breakup, he was seen making out with Eiza Gonzalez.
Credit: Bruja/Juan Sharma/PacificCoastNews.com
2013 was also the year of Miley wildin out so everyone thought she went crazy and that's why Liam broke up with her.
That's not exactly true.
In 2013, Miley played you all and the general public like a fiddle. She knew that she wanted to achieve record breaking stardom and she did what she had to do. Now 2013 Miley is looked at as THE MOMENT IN POP CULTURE. She redefined pop culture that year.
Miley was not acting out because she was crazy. Miley was acting out because she knew how to work the industry. You see, Miley would have had a successful era without the shenanigans.
But would it have been that impactful or as remembered without the wrecking ball and the Robin Thicke grinding? Probably not.
Besides, both Miley and Liam are in the industry. Both are aware of what they have to do and how they act surrounding new eras. It's not like Liam was like uhhh she's gone crazy.
The only time Miley truly lost it during that era, was when her dog, Floyd, died. Then she was seen bawling her eyes out on the Bangerz tour with a huge prop of Flyod up on the stage.
Even though I'm saying Miley was not as crazy as everyone thought she was in 2013, I'm not saying she didn't abuse drugs. She did. This behavior continued up until 2016, I believe. She was hanging out with those two wretched losers who's names I can't remember. This also around the time she started dressing like this which made everyone wonder what the hell is going on with her.
And of course she was depressed over Liam during that time.
So Miley's rep said that MILEY broke up with Liam in 2013 because he was not faithful.
Now that is true. However, the tea is they both cheated on each other. Liam's unfaithfulness was more serious because they were engaged. When Miley cheated on him, it was before that. I'm not making excuses for either's cheating though, I'm just saying.
In Miley's essay about Liam on Instagram, she admits to cheating in the past. However, she doesn't directly say she cheated on him. She said she left that clownery in the past, which is true.
Here's what Liam had to say about that breakup in 2016.
Here's what Miley had to say about that breakup in 2017.
As long as we are clear that Miley and Liam's first breakup didn't have to do with Miley's pop culture antics, we can move on to the more present matter.
The Marriage
Without publicly announcing that they were engaged, it was speculated that they were in 2016 when Miley posted the following picture on Instagram.
The ring looked suspiciously familiar to the one that Liam first gave Miley in 2016 and according to a source from US Weekly.. it was the same ring.
And it was.
Then they ended 2018 as a married couple. They had a very private ceremony in their home.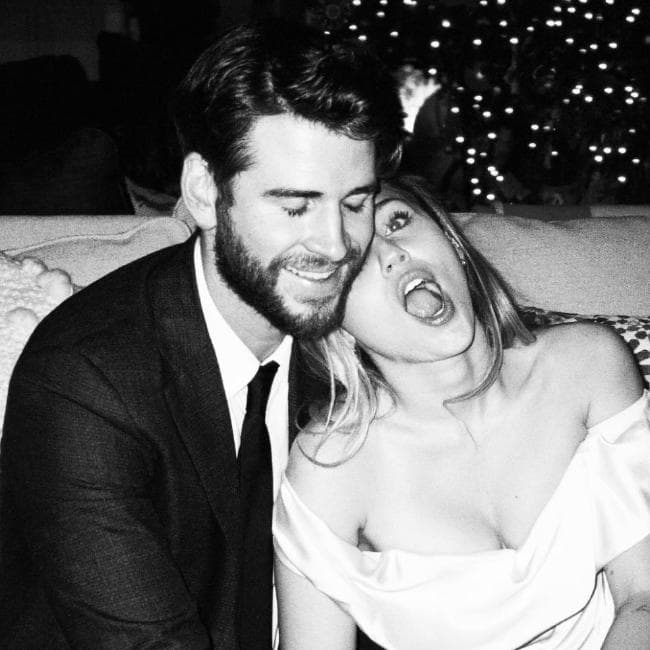 Honestly it was the cutest and most loving thing in the world.
So why did it end?
The "2019" Breakup
Here's a nice summary of what Miley and Liam's reps had to say and what they accused each other of.
Many other insiders believe that Liam broke up with Miley because she's a partying freak and a druggie who can't stay "normal" and stable.
Miley clapped back at everyone claiming that when she wrote on Instagram saying that she left that partying and crazy life in the past. This is true… to an extent. Her ways are definitely not as crazy as they used to be.
However, according to my sources, Miley allegedly has some kind of a drug problem. They tell me they don't want to label her as an addict because it's not really dependent drug use that needs urgent rehab, but they say it could lead to that.
A big issue in Miley and Liam's relationship is that Liam wants Miley to stay out of the industry.
"He tries to restrict her light which causes conflict between them. I feel they really love each other but sometimes he really has a it's my way or the high attitude, I've heard." - my source
Miley is a very…. carefree person and sometimes it comes off as a little too carefree. She goes through these phases where she's a strong believer in one specific thing and no matter what you do, you can not and WILL NOT change her mind. She's very stubborn and it's sometimes a THIS IS WHAT IS RIGHT mentality which causes conflict because she's not willing to change. It's more of a "this is who I am, accept me or leave me" type of way. I understand where she's coming from, but in some cases she should be open to discussion.
When you combine that attitude with Liam's restrictiveness, it causes a mess.
Miley's song that explains this the best is "Space Bootz"."
"But maybe it's me and I got to change my views" what I just explained is what she's hinting at right here.
Also, Liam is a little moody which is something that she says in "Space Bootz."
However, it was never toxic to my knowledge. Their relationship wasn't emotionally nor physically abusive. They handled it like mature adults for the most part. They've had their fuck ups here and then.
In "Slide Away," Miley talks about drugs once again.
Fans think that Miley exposed Liam's alcohol and pill addiction, but my source feels like Miley is talking about HER LIFE. Miley is tired of that lifestyle. She no longer is interested in drugs, but at the same time she struggles with them.
"I think she wants the family dynamic with him but he's controlling with how she's perceived to the public eye and Miley loves talking, loves being out there and I think that's a turn off for him." - my source
Basically they are that relationship in which their core morals and beliefs are different despite how similar they are.
Everyone thinks that Liam deserves better and that Miley doesn't give a shit about him because she's out canoodling Kaitlynn Carter, but that's not true. I'm going to get into that in a little bit, but let's talk about Kaitlynn Carter.
Miley and Kaitlynn Carter
The following photos caused so much drama.
Photos: BACKGRID
Everyone thinks that Miley cheated on Liam because these photos came out before the breakup announcement.
She didn't cheat on him, but they never announced their breakup publicly.
"Slide Away" is obviously about Liam and that came out the week of the announcement. A song can't be lyrically composed, recorded, and ready to go in under a week. So obviously it has been in the making. On top of that, the music video was already filmed before the public announcement of the breakup.
However, from a business standpoint of view, it was better to release the song during controversy and directly after the break up because he gets people talking. This doesn't take away from how raw the song is though, don't get me wrong.
Also, Miley is hurting. She's acting like isn't, but she is.
She wrote this shit and probably started sobbing.
Both her and Liam are unhappy, so don't think that either is doing fine right now. We'll get to that in a moment.
But let's talk about Kaitlynn Carter.
My source tells me that she's attention seeking and who's just benefiting off being photographed with a popular star like Miley. She ain't heartbroken and sources even speculate that her and Brody Jenner's entire relationship was a fake for their reality TV show, especially since they were never legally married on paper. They just had an elaborate Indonesian wedding without being legally bound.
I hope you guys don't think that this shit between Miley and Kaitlynn is actually going to last.
They are reportedly living together and if that's true, it barely means anything. Miley is the queen of being spontaneous without thinking clearly. Is being with Kaitlin easing the pain of Miley's breakup? Yes.
How is Miley doing?
My source tells me that she's in a bad state right now and whenever her relationship with Liam encounters problems, that gives her anxiety.
"I heard her relationship with Liam gives her anxiety like when they don't speak or he isn't acting right, it causes her to have anxiety and at first, weed was all she was doing for it, but it's excelled from that." - my source
So if you're asking if she's sober.. she's not.
Liam is also depressed and he's just trying to whore away his pain in Australia.
It's honestly a shitty story.
They both love each other, but they have core differences despite their similarities. Miley has her own personal issues that have definitely affected the relationship, I'm not going to sit here and say it didn't. And Liam has his possessive and restrictive ways.
With all this being said, my sources and I still think they are going to get back together.
What do you guys think? Comment down below.
Hope you enjoyed! Subscribe to our newsletter to be updated on everything (we are still working on building our mailing list so if you are not getting much emails from us, that's why).
Here's the messages between my source and I.
xoxo
your favorite exposers